Professor Rebecca Braslau
Excellence in Teaching Award, UC Santa Cruz 2014
Visiting Professor, National University of Ireland, Galway, October 2011
Visiting Professor, ARC Centre of Excellence for Free Radical Chemistry and
Biotechnology, University of Melbourne, Australia Fall 2008
Full Professor of Chemistry, University of California, Santa Cruz 2008
Visiting Professor, Dutch Polymer Institute, Technical University of
Eindhoven, the Netherlands, Spring 2002
Director, NSF Research Experience for Undergraduates Programs
at UC Santa Cruz: summer 2000-2005
in Bangkok, Thailand: summer 2002-2011
Associate Professor of Chemistry, University of California, Santa Cruz 1998
Professeur Invité, Ecole Normale Superieure, Paris, November 1997
Assistant Professor of Chemistry, University of California, Santa Cruz 1991
Postdoctoral Fellowship with Dr. Bernd Giese
Institut für Organische Chemie, Universität Basel, Switzerland: 1989-1991
Thomas J. Watson Fellow with Dr. John C. Coll, James Cook University of
North Queensland, Townsville, Australia, August 1982 - July 1983
Phi Beta Kappa, Reed College 1982
National Science Foundation Undergraduate Research Fellowship with Phil Crews, UC Santa Cruz, summer 1980
Faculty at UC Santa Cruz since 1991
Postdoctoral studies with Bernd Giese at Universität Basel
Ph.D. University of Wisconsin with Barry Trost
B.A. Reed College
rbraslau at ucsc.edu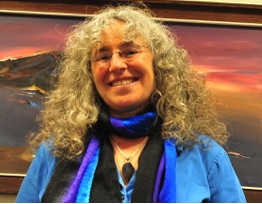 The Braslau group has been supported by the National Science Foundation, Petroleum Research Fund of the American Chemical Society, Research Corporation and the California Cancer Research Coordinating Committee.
Prof. Braslau has mentored 23 graduate students, 7 postdoctoral scholars, and more than 50 undergraduate research students (UCSC students, NSF REU students and ACCESS students from other campuses), and 5 international student visitors.
Prof. Braslau has served as guest editor for Molecules special issue on Free Radicals. She has contributed three chapters for books, two with graduate student co-authors.
Professor Braslau teaches courses in organic chemistry at the sophomore level, an advanced organic laboratory, and graduate courses in organic synthesis and a specialized course on organic free radicals. She is currently chair of the Department Safety Committee, and chair of the campus Chemical Safety Advisory Committee, in addition to serving as a member of several other committees at the department and campus level.